In response to the COVID-19 healthcare crisis it has been a fine balancing act trying to get supplies to our NHS clients, the Military, care homes, schools which are still open whilst also supporting our commercial clients, many of whom it should not be forgotten are also working in key roles within the country's supply chain.
During this difficult time we are committed to maintaining our working operations to the best of our ability, unless the government advises otherwise.
Some of us are working remotely and our office hours have been reduced, now from 10:00 until 16:00.
We stock a complete range of hygiene and cleaning products, such as gloves, cloths, disinfectant sprays, antibacterial pens and stationery, along with all your usual office product and furniture requirements.
Please click here to see list of hygienic supplies & PPE currently available.
---
Hand Sanitiser Gel 70% Alcohol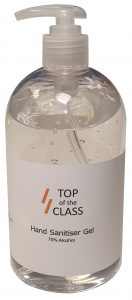 Product code: WSZHSG500
Prices and stocks are fluctuating as we are part of more than one supply chain for this product.
We are working hard to fulfil all orders and do give priority to clients who are healthcare professionals, however we currently have free stock available to all clients, packed in 9's.
Trade and wholesale enquiries are also welcome.
Please call your usual sales contact on 01752 695469 or email sales@westcare.co.uk
500ml stylish bottle with Easy Glide Pump*
Looks and feels good in every room of very office or home, non-tainting, food safe, certified EN1276* and EN1500*
*Bottle style and labelling may vary.
*EN 1276 is the European standard for the bactericidal activity of chemical disinfectants as proof of effective infection control against harmful micro-organisms.
*EN 1500 is a European Standard test method that evaluates the efficacy of a hygienic handrub.
To view COSSH click here and to view SAFETY DATA SHEET click here
---
Also in Stock
We have introduced a Home Office range for customers who may be considering working remotely.
Click here to view leaflet.
Stay safe and call us any time.
---
Delivery Policy
We are witnessing unprecedented times and we follow all guidelines set out by the government for our own protection, and that of all others.
Our drivers wear gloves and have surface disinfectant wipes as well as sanitising gel on board their vehicles for the protection of customers and themselves.
Be aware that we go out of our way to help our customers and offer deliveries to home addresses as well as to businesses which are still open.
To respect social distancing our driver will simply take your name and a photo image of the goods left in front of your home or business.