Interiors by Westcare
We provide design, supply, fit-out and project management solutions. Our creative designers understand that your environments need to inspire, yet also be sustainable and affordable. We take on all projects including refurbishment, upgrading areas and fitting out brand new spaces. We Provide a safe and healthy working environment including safe systems and methods of work for our clients, subcontractors, employees and members of the public. We evaluate and maximise space usage within your budget and work around your timetable.
FIT-OUT – REFURBISHMENT – UPGRADES – NEW BUILD
DESIGN – CONSTRUCTION DESIGN MANAGEMENT (CDM)
SUPPLY – BLINDS – FLOORING – FURNITURE – INTERIORS
Hele's School Library Refurbishment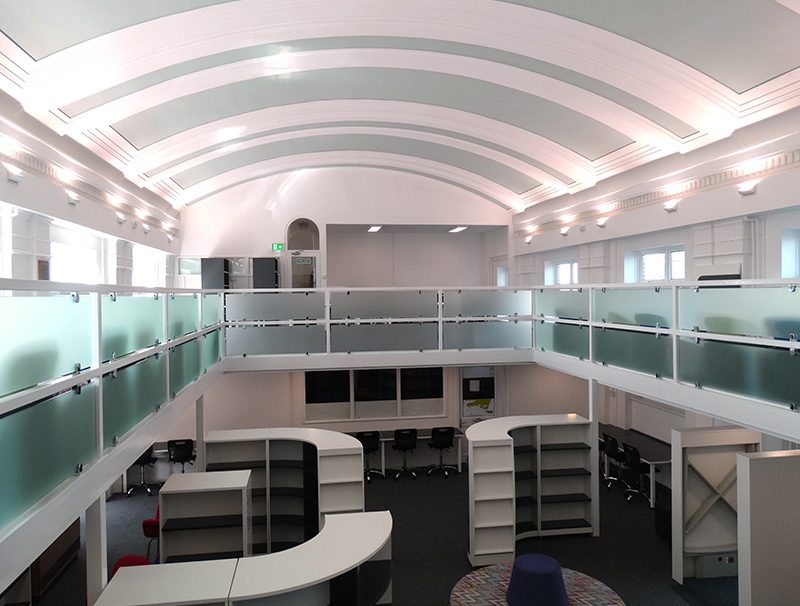 "It's been a pleasure working with Westcare during our library refurbishment. From design to completion, nothing was ever too much trouble. The customer care and high standards provided throughout the project have been second to none. The students and staff are thrilled with the transformation."
Wendy Farnham
Director of Business & Finance
Hele's School
We were called upon by Hele's School to complete a number of build and refit projects around the school including their corridors, reception and their impressive library building which was in need of modernisation. The remit for the library was to create an open and airy atmosphere where the students would feel welcome and want to be a part of.
Designed as a collaboration between the Client, Westcare's Project Managers and supply partners. We ensured that adequate storage was available for books, while still keeping the library bright and spacious. There was enough comfortable seating to allow for relaxed reading and sufficient benching for IT use so that students could study more formally.
The client required high specification furniture to complement this impressive building, and special information features for the visitor centre.
The conference room needed to be a flexible area with options for different seating and cable layouts without compromising on quality.
This space planning and furniture project was completed within budget and on time.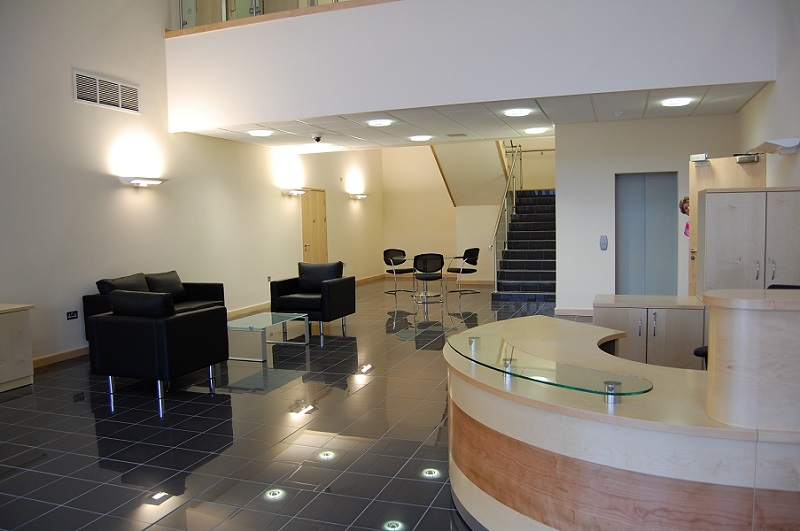 Devonport High School for Boys Science Laboratory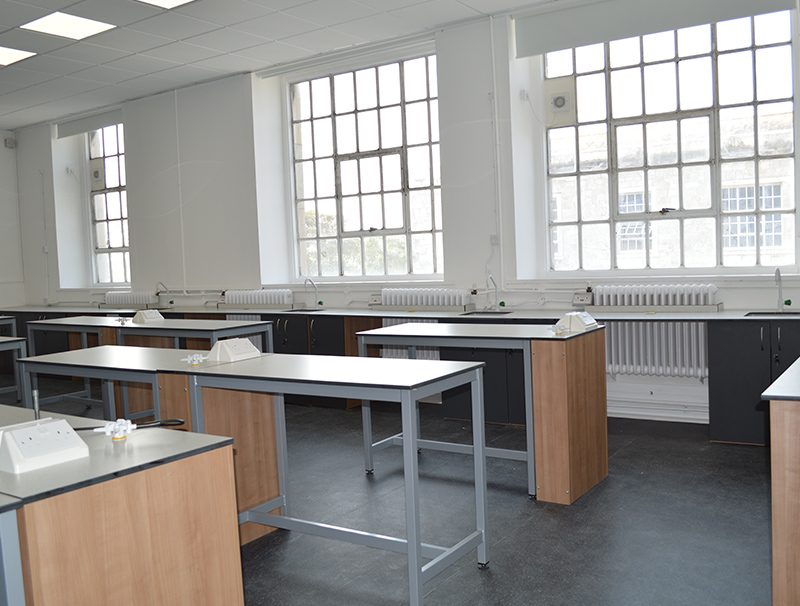 "The installation was completed on time and produced two high quality, modern labs. I would certainly use Westcare again as part of refurbishment programmes in the future."
John McConnell
Estate Manager
Devonport High School for Boys
We refurbished and modernised a second floor laboratory, including the creation of pods with gas and power for student use.
The whole room was cleared and all fixtures and fittings removed, including floor covering and pipework. The engineer laid new gas and power under the floor boards to fit into special pods taking gas taps and power boxes.
The ceiling was lowered and LED panels installed with new ceiling tiles. A modern, compliant gas safety system was installed together with non-slip safety flooring.
The whole area was decorated and benches, sinks and bespoke teacher's desk fitted to modernise the Laboratory.
We were tasked to design a modern working environment providing a high standard of inspirational benching and storage to encourage collaborative working.
The public areas reflect the ethos and professional expertise of the client.
Additional floor to ceiling units were required which needed to be streamlined and functional, as well as flexible to allow for expansion.
Foot Anstey LLP, Plymouth & Bristol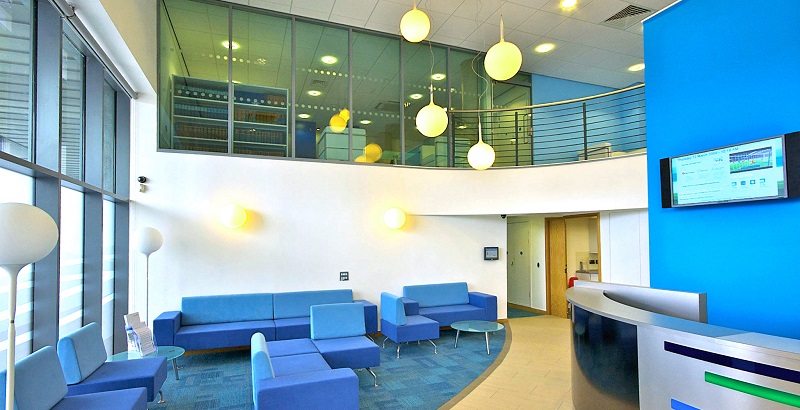 St Matthews C of E Primary Academy Fit-Out and Furnish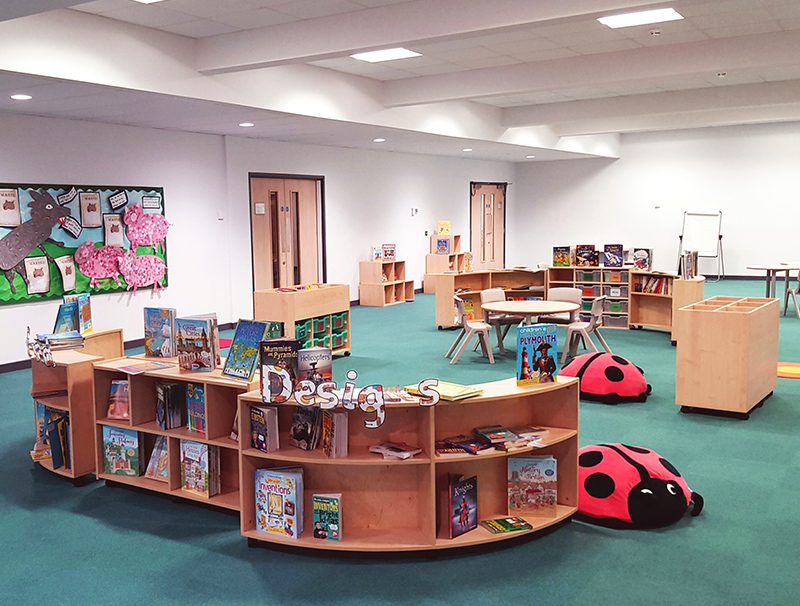 "Resourcing and creating a school environment, from scratch, has been an interesting and exciting journey and Westcare have supported us to create the vision. Westcare were chosen because of the service they provide, their pricing policy and the fact that we wanted to support a local company. They have sourced resources, manufactured bespoke furniture and provided advice and guidance on room layouts. I would highly recommend them."
Andrea Smith
Headteacher
Matthew's C of E Primary Academy
We were asked to supply a complete installation for the new St. Matthews C of E Academy in Derriford, Plymouth. This remit included classroom tables and chairs, hand towel dispensers, pens, pencils, exercise books and musical instruments, a total of 1756 classroom resources and 608 lines of furniture and janitorial products.
Once the order was placed we were able to produce individual room plans for the client together with a complete list of items required for each room.
Each classroom was furnished and co-ordinated by size and colour. The library was fitted with bespoke items creating ample storage with space for additional shelving as required.